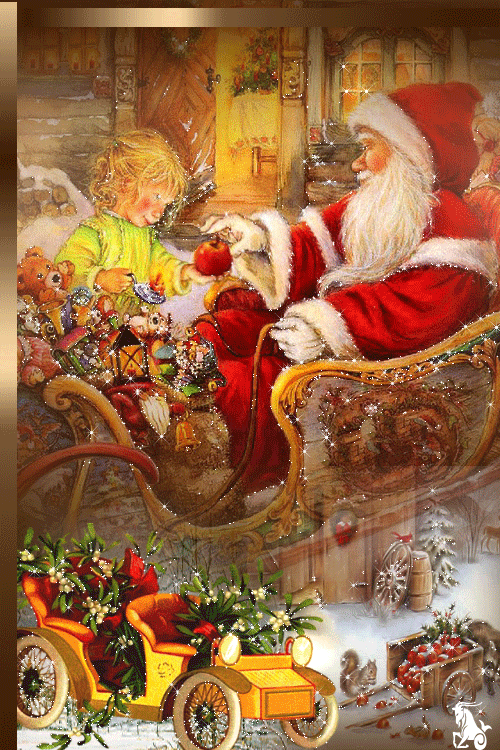 I was musing the other day thinking back to my childhood and the happy times we had especially around Christmas. Christmas was treated as magical and my parents really made it come alive. We were actively encouraged to use our imaginations and believe in make believe. Make believe was a safe place to go and as long as you believed - really believed then that was all that really mattered and it gave us so much more than Christmas being just Christmas we were able to connect with the magic, the hope the celebration of family time and to participate. Of course we were taught the difference between reality and make believe but for Christmas we were really allowed to dream and believe and allow the magic to evolve. Christmas is so wonderful through the eyes of a child.
We were always actively involved in the preparations - some things children cannot do but there are some things when seen through the eyes of a child which makes the adults believe too.
One of the first things in the Calendar for Christmas was/and still is "Have you been naughty or nice". The big decision where Santa checks his book of the good little boys and girls and the naughty ones world wide. As little ones we were always encouraged to be good and if we were being bad a comment somewhere along the lines of Santa will not be very pleased use to be enough to check us.
During the summer if there was a loud thunderstorm and if we were alarmed we were calmed with. Now be good it's only Santa Claus turning his toys over. It was only in later years we found this to be a ruse as my mum was terrified of Thunder storms but at the time we as children gave great importance and store was set by this. Children take everything at face value and their enthusiasm and innocence and excitement all adds to the charm.
Equally my father never missed an opportunity in which to bring the magic alive. One day we were taken up into the attic into my father's dark room which was normally out of bounds. On this occasion a voice came out of the chimney purporting to be Santa Claus and making sure that we were going to be really good between then and Christmas. Both my brother and I spun round as we thought it was Dad throwing his voice. However he convinced us that it was indeed Santa Claus. When we were older and talking about it he admitted that he got away with that one by the skin of his teeth.
We were always encouraged to write Letters to Santa Claus a tradition where a letter is written or letters and then the draught from the chimney was allowed to take the letter all the way to the South Pole with a list of those items we were interested in. In effect the chimney became Santa's post box. However things got complicated when my parents had the gas fire fitted. There was no access down the chimney for Santa Claus and equally no draught on which to take the letter up the chimney. That's when writing a letter and sending it via the Post Office took hold and solved the problem of posting the letter up the chimney. However the problem of Santa Claus still existed and I believe we were told that Santa would magic his way into the house and that there was nothing to be worried about.
When my nephews were small and carrying on the tradition as previously set by my Dad my nephews used to get a letter back from Santa Claus (after they had sent theirs dealing with everything that had gone on during the year for them. They were personalised to each child. Neither of my nephews ever twigged who had written the letters taking them at face value. It was only recently when clearing mum's house that I found a couple of them. They certainly bought back happy memories for us and my nephews.
Stir up Sunday this year on 22 November 2015. Stir up Sunday is the last Sunday before Advent the day when traditionally the Christmas puddings are made and each member of the family is encouraged to have a stir of the pudding and to make a wish. It is meant to bring good luck through the coming year. I remember doing this as a wee one a tradition that marked the nearness of Christmas.
Advent this year commences on 29 November 2915. The waiting period before the birthday of Christ. Today this is often celebrated for children with the Advent Calendar/or Advent Candle marks off the days. Also an Advent Crown or wreath with four candles in, the first of which is lit on the first Sunday in advent and each Sunday until then until all four candles are lit or in the case of a solitary candle you burn it down to the relevant day. The more modern advent calendar has little pockets or drawers with a treat in for each day.
Children love to feel involved and to be doing something special. Get them making paper snowflakes to decorate the windows with and to cut negatives of little houses to give the impression of a little town or street. Get them making decorations in their free time when they come home from school and or paper crackers. We were always encouraged to make something like knitting dishcloths or making Christmas cards.
Decorate the house: This was always special and it was special time - we always used to do this of an afternoon. Out would come the old tea chest packed full of glitzy precious glass baubles and decorations. We were not allowed to handle them when children but as we got older we were shown how to put the hooks on and hand them to mum to place on the tree. The piece de resistance always used to be placing the fairy on the top of the tree. The fire would always be going and when the lights went on it was magical and the glitz and twinkle of the little tree. Dad used to play the piano as well and we would all sing along (not necessarily in tune) but they were happy precious times. Christmas was made for children and their happiness should be paramount.
We were always encouraged to do a party piece as well. Often we would go to my Nan's for Christmas and meet up for a proper family Christmas so there used to be lots of practicing in the run up. The learning of a poem, a little dance, some jokes. Sing a little song or carol.
We were always encouraged to help - sometimes we got into a mess but it was expected and we learned little by little
On Christmas Eve we used to help mum prepare a tray that was put up with a drink and something to eat for Santa Claus as a thank you for delivering the pressies, and of course these days carrots for the Reindeer. In our time it was a glass of port each and two mince pies, a drink and something to eat from, my brother and I.(covered over in a cool place).
We always had new PJs on Christmas Eve and a bath and then we were snuggled into our dressing gowns and Dad used to read Night before Christmas or tell ghost stories as we got older. We also were told that sometimes you would hear Santa Claus arrive you would hear the jingle of the bells on his sleigh on the roof. Another time you might hear him step on the roof. Dad read a Christmas Carol as well when we were older but that came later on. All in front of the fire. When we started to get sleepy we were carried upstairs and tucked into bed under loads of covers. Christmas's then were often white and very very cold but we were always kept warm and snuggly.
There was always our socks hung off the fire place and a large clean crisp white pillowcase for the larger presents.
Going to sleep was another matter. It was often a late night for mum and dad as my brother would never go to sleep. I remember one year in particular where this had happened. I had been asleep pretty early on but he had not settled. He had eventually gone off to sleep and Dad had been able to deliver the pressies.
However Dad had not been in bed above half an hour before my brother was in my bedroom waking me up saying "Tricia he's been he's been come on lets open the pressies". I had told him no we had to wait until morning and he was hedging his bets as usual when a rather grumpy dad came through, told me off for waking my brother up and then escorting him back to bed. My brother got away with blue murder.
So Christmas through the eyes of a child really should be special and magical and never ending.